The "Casa Rustica"
The Casa Rustica has been built on the plans of the architect Pio Soli in 1886-87 as a location for science activities and Head office and with the aim of bringing together museum collections. The building houses on the ground floor a small museum with collections of wood, seeds, fruits of the garden and old tools. On the first floor of the building are the Herbarium and the laboratories attached. At the beginning of World War II, in 1940, the Casa Rustica hosted a military command. The terrace, destroyed by the war, was rebuilt thanks to this photograph.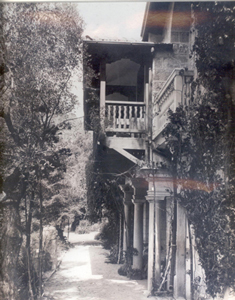 The Xylotheque
On the walls you can see a collection of timbers samples of tree species cultivated in the Gardens.
The collection is newly established and includes about 60 samples of wild and exotic species.
You will find there cross sections of logs or large branches.
For each sample are given species, geographical origin and family.
The sections are arranged according to the family, into an order of evolution following the coding of the genus of Dalla Torre et Harms.