Welcome to the Hanbury Botanical Gardens, one of the principle botanic gardens for acclimatization in this area of the Mediterranean.
As a botanical garden, it is different from a recreational garden in which the aesthetic aspect is more important. Here the plants are cultivated following their natural reproductive cycle.
Therefore in order to complete these reproductive cycles we have to leave the old foliage and flowers on the plants. For example the palms and the yuccas are left as they would be in their natural habitat. We don't cut off the old leaves which remain wrapped around the trunk protecting them from the heat and from the cold weather: this absence of pruning often gives these plants an elegance forgotten in the gardens of the Riviera.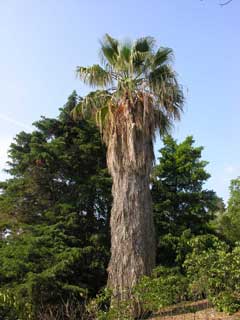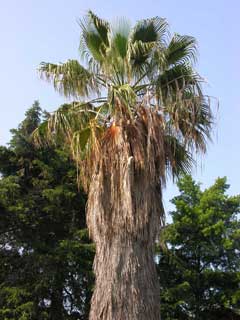 This acclimatization means that exotic plants can be introduced gradually and therefore adapt to living in our conditions and environment.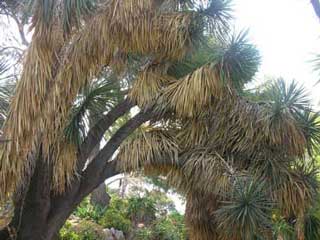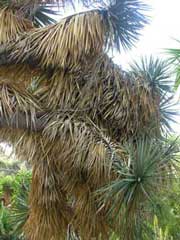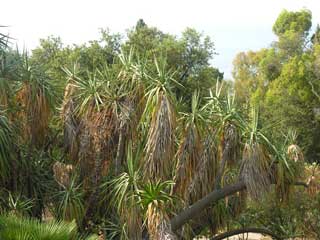 Depending on the year the Mediterranean climate has a long period of drought during summer: in general from the middle of June until the arrival of the first rain in September. Here during this period the plants rest because they have to protect themselves from transpiration not only they do stop growing but their leaves wither and some fall.
There is a fine balance between watering these plants for their survival or over watering them which brings on unnatural forced growth during the wrong season. It would also be a waste of precious water.
During the summer season the fruit is ripening and should stay on the plants until the seeds are ready to be collected for the garden to then send them to other gardens and botanical institutes all over the world.
Please don't be shocked that some areas are not looking their best and also that some dead looking seed pods remain on the plants to ripe (for example Aloe and Agapanthus).
Thomas Hanbury wrote that during the summer it would be a good opportunity to close the garden to visitors and reopen it after the first rain of September but this never happens. In fact some plants from arid climates come into their own during the summer and many people do not have the opportunity to visit this corner of the Riviera in other seasons.